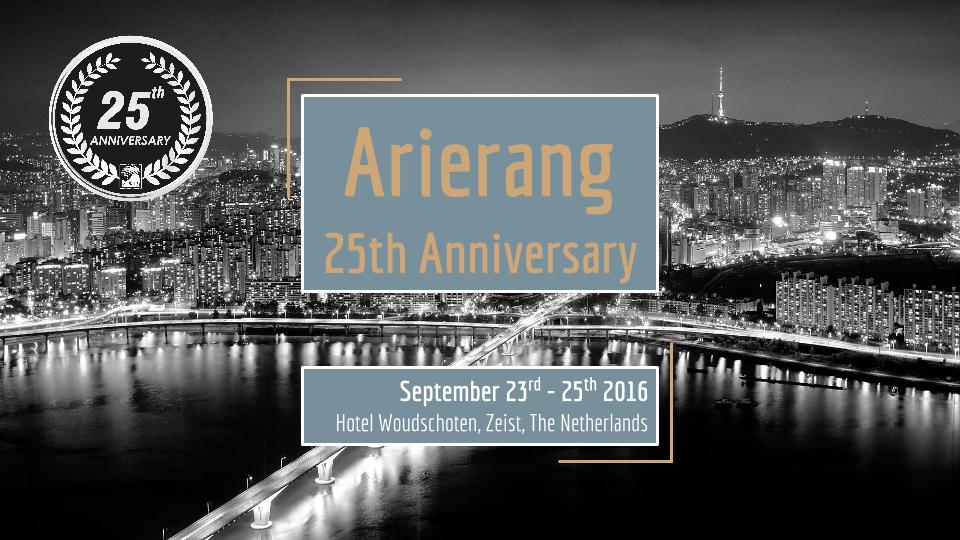 25 Years of Arierang
We are very proud to announce that Arierang will celebrate its 25th anniversary this year! In 25 years, our association, like its members, has grown from rebellious teens to just as rebellious adults. What connects us are our mutual Korean roots, which often results in lifelong friendships.

We are looking forward to celebrating our Arierang 25th Anniversary Weekend with YOU, our Arierang members, other Korean adoptees from all over the world and our contacts in the adoption field worldwide. For the past 25 years we have been an association that brings people together, increases knowledge, shares experiences and organizes adoption related and fun events while discovering our Korean roots. We are ready for the next 25 years!
Arierang 25th Anniversary Weekend – Registration open
We are happy to announce that the Arierang 25th Anniversary Weekend registration is open! We have created a beautiful invitation to share with your friends so you can invite them to join us for the weekend. Spread the love!
Click below on one of the buttons for the full event details with prices and location or to buy tickets.
View Anniversary Weekend information or  Buy tickets now
This event is brought to you by the amazing Arierang event team:
Wout Kolkman, Maria Van Den Bosse, Martine Schölzel, Frank Klein Douwel en Kim Woo.