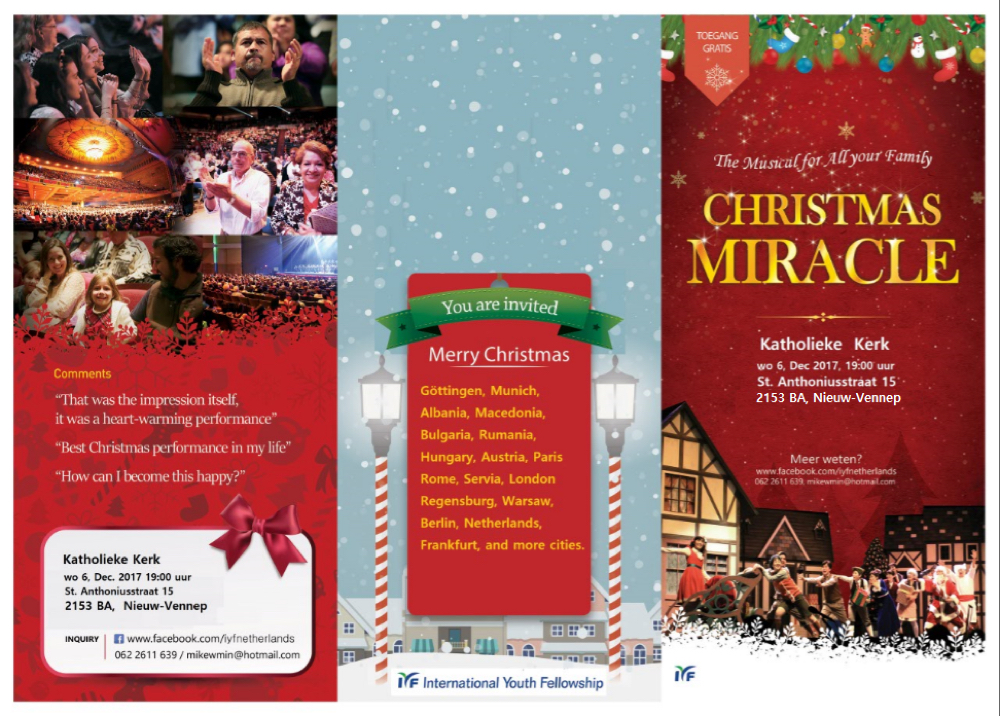 Deze diashow vereist JavaScript.
Dear Arierang members!

We are South Korean volunteer students for the Christmas Musical Tour.  It is our pleasure to announce that we are coming to Nieuw-Vennep, near Schiphol Airport at 7 pm on the 6th of December.
Since last year we are traveling in Europe more than 25 cities. We are giving many people happiness and hope through the cultural performances, music and the musical.
IYF (International Youth Fellowship) students dramatize a musical based on Christian Andersen's tale, "The Little Match Girl" (Het meisje met de zwavelstokjes). A girl who never knows the love of her parents and living with bad behavior changed and became a new girl. Her change brings a happiness and joy to the whole family!
Not only the young people but all age groups were moved by the musical. The musical tour is making European winter a lot warmer.

We are inviting everyone who is related to Arierang.nl and IKAA. Entrance is free entrance but the seats are limited so send an e-mail to reserve your seats. We will send you a free e-ticket.

E-mail: mikewmin@hotmail.com

Thank you and season's greetings !
Michael Woongki Min,
Coordinator Christmas Musical NL
Samenvattend: De musical Het meisje met de zwavelstokjes wordt opgevoerd door Studenten van IYF op 6 december om 19.00 uur. Het is gratis, maar je wordt verzocht te reageren via het email adres hierboven om je tickets te reserveren. Veel plezier!