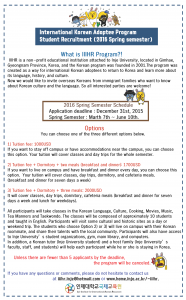 JINHEUNG MOONHWA Co., Ltd. is a leading printing company located in Seoul, Korea. In its fourty year history Jinheung has been aware of its social responsibility and has contributed to the Korean society in many ways.  In 1996, Journey: Trip to Korea was founded, continuing the tradition. The annual event has welcomed many Korean adoptees back to their native land and allowed them a better understanding of the rich history and culture of the country they were born in.
The program takes place over two weeks and includes visits to Korea's various historic sites and other places of cultural significance. Programs will take place in Seoul and may include instruction in traditional arts such as cooking or Korean drumming.  A five day tour of the country will take participants to the beautiful Mt. Sorak on the east coast, continuing on to Kyungju, the Buddhist capital of the Shilla Dynasty, then to the beautiful island of Jejudo before returning to Seoul.
Visits to respective adoption agencies will also be scheduled. The tour is designed to help participants understand their roots, both past and present including Korea's traditional and cultural heritage, its modern history as well as facets of today's development. In addition, families in Seoul will open their homes and hearts to each participant for a homestay portion of the trip, which will allow the adoptees to have hands-on experience of Korean life and to feel a warm sense of belonging to their motherland.
2016 trip will take place from June 19th until July 2nd. Complete schedule can be found here