Journey 2014 :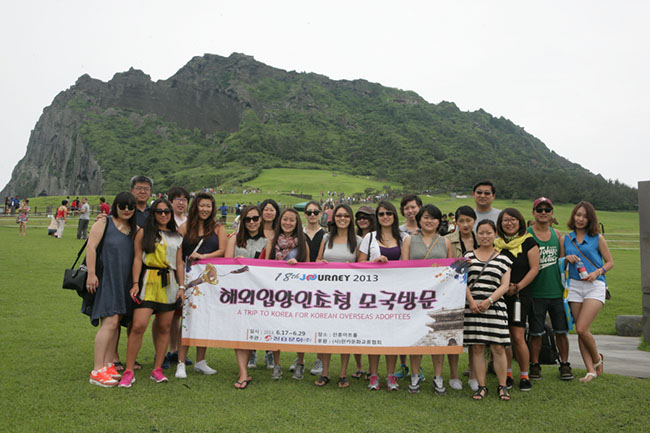 JINHEUNGMOONHWA Co., Ltd. has hosted a motherland tour program, as we call JOURNEY, for all Korean Overseas Adoptees every year since 1996. The purpose of this program is to provide an opportunity for Korean Overseas Adoptees to learn and understand Korean culture and tradition, to foster a strong sense of pride in the Korean heritage and build a warm friendship between native Koreans and adoptees. We now invite Korean Overseas Adoptees to JOURNEY 2013 as below.
◎ Tentative Date : June 15 – 28, 2014 for two weeks
** subject to change slightly
◎ Applicant Qualifications / Participant Selection
– All Korean Overseas Adoptees
– From 18 to 30 years of age.
– Preference to those who have not visited Korea before
– Limited to 20 participants on FCFS basis
◎ Participation costs
JINHEUNG MOONHWA Co., Ltd. will cover all expense for this program
(housing, food, transportation in Korea) except air travel to/from home country and domestic travel from Kangwondo/
Jejudo/Seoul.
◎ How to Apply
– Fill out and Submit application form and brief essay which includes information about yourself and what you hope to gain
as a participant in Journey program. Include a recent color photo.
Submit to:
Robyn McLaughlin: robynpoland@gmail.com (USA) or
Andy H Park : andyhpark@hotmail.com (Korea)
Application Form (Download application form at http://1004calendar.com)
** Early application is highly appreciated as participants are accepted on a first come basis.
◎ Application Deadline : March 31, 2014
◎ Host:
JINHEUNG MOONHWA Co., Ltd.
104-8 Shinseol-dong, Dongdaemoon-gu, Seoul, Korea
Tel: 82-2-2230-5190 / Fax: 82-2-2230-5156
    http://1004calendar.com
◎ Contact Information
– Korea :
  Mr Andy H Park
Tel: +82-2-460-0789 / Cell: +82-10-5240-3881 / Fax: +82-2-3298-1004
– U.S.A :
Ms. Robyn McLaughlin, US coordinator
Tel: +1-732-721-8450/ Fax: 732-588-5987